EVENTS

DATE

TIME

LOCATION

Welcome to Chicago! Join Us at the Pool for Pizza!
July 26, 2002

TBA

Chicago City Centre Hotel Pool
Tour Black Chicago
July 27, 2002

TBA

Meet at the Hotel
BarBQ, Music & Fun
July 27, 2002

TBA

31st Street Beach
Storytelling, Photos
July 27, 2002

TBA

Hotel's Hospitality Suite
Church Service (optional)
July 28, 2002

TBA

Chicago City Centre Hotel
Sunday Banquet
July 28, 2002

TBA

Chicago City Centre Hotel
Sunday Dinner (optional)
July 28, 2002

TBA

The Davis Residence
Getting to Chicago
One of the things to consider when planning your trip to Chicago is "How will you get there?"


Get There By Air...
Chicago is served by several airports. The two major ones are O'Hare International Airport and Midway Airport.
The O'Hare Airport is located just 17 miles northwest of downtown Chicago, O'Hare International Airport is accessible via local mass transit lines, regional trains and buses, downtown and suburban shuttlesand interstate highways. Most ground transportation access areas are located at the main entrance for each terminal. O'Hare is serviced by most major airlines.
Midway Airport is conveniently located 10 miles from downtown Chicago. Midway has a limited number of airlines compared to O'Hare, but AirTran, a discount airline, flies into Midway and occasionally offers very good rates to the Windy City.
Be sure to compare rates between the airlines and be on the lookout for special deals, especially on the internet. Click the logos below to visit two popular airlines.
Alternate Travel
September 11th has had a tremendous effect on Americans and the world but it has also had great impact on the travel industry. Some of us are no longer comfortable with air travel. If you are wondering how to get to Chicago without getting on a plane, read on:

Take the Train
Since 9/11, the train is becoming more and more popular as an alternative means of travel. Beware, it is slow. As an example, the trip from Greenville to Chicago takes about two days in each direction and the round trip fare is $292 (as of 1/31/02). Amtrak promises that you will enjoy your trip:
"You're our guest on Amtrak. We promise to make your trip a safe, comfortable and enjoyable experience. If something isn't right, talk to any Amtrak employee and we'll try to make it right. If our efforts aren't enough, call 1-800-USA-RAIL (1-800-872-7245) for a Service Guarantee Certificate toward future travel. Your satisfaction is guaranteed! When you travel on Amtrak, you'll go places and see sights that can only be experienced by train. It's an extraordinary way to get where you're going. What's more, we back it up with a guarantee unmatched in the travel industry. Welcome aboard. You're our guest on Amtrak. Guaranteed!"
If you have the leisure time to enjoy a nice long train ride, read, relax, and watch the world go by, go Amtrak! Call 1-(800)USA-RAIL or visit their web site at www.amtrak.com .
Take the Bus
Greyhound is a good compromise between the safety of ground travel and the speed of air travel. Rather than spending several days (round trip) on the train, you can arrive in Chicago by Greyhound in less than 16 hours from Asheville. The price is reasonable, too ($224 per person, as of 1/31/02). You can check fares and schedules at www.greyhound.com or by calling 1- (800) 229-9424.
Sharon has not had any further response from anyone interested in taking a charter bus to Chicago. If you are interested, Sharon Underwood is leading that effort and needs to know as soon as possible. The fee for the bus would be $90 per person. A deposit of $45.00 is required to reserve your seat. The bus will start in Atlanta and will make a stop in South Carolina and one in North Carolina before reaching Chicago. For more information, please contact Sharon Underwood at 828 258-2200 or by email at asheville_chapter@patterson-smith.net
Get on the Bus!!!
Sharon Underwood has not been getting a very good response. For those of you interested in this economical way of getting to the Windy City please let her know as soon as possible. The fee for the bus would be $90 per person. The bus will start in Atlanta and will make a stop in South Carolina and one in North Carolina before reaching Chicago. For more information, please contact Sharon Underwood at 828 684-5578 or send her email at ashevillechapter@patterson-smith.net.
---
Tour Black Chicago Inc.

Tour Black Chicago Inc. is Chicago's premier African-American Tour Company. The tour will cover the rich history of African-Americans in Chicago, focusing on the neighborhoods, museums and the vast culture that Africans-Americans have brought to this city. Some of the tour highlights include the Quinn Chapel, one of the oldest churches organized in 1844, Oak Woods Cemetery, the oldest private cemetery in the city, the Dusable Museum of African-American History and other areas of interest to blacks of Chicago. Tour Black Chicago promises to show you Chicago as you've never seen it!
Tour Black Chicago
35 E Wacker Dr.
Suite 222
Chicago, IL 60601
Telephone No: (312) 332-2323
Fax No: (773) 684-9434
On Your Own in Chicago -Our Featured Events
The Museum Campus
Chicago is famous for its museums and three of its most exciting and prestigious museums are housed in the same complex called Museum Campus Chicago. The Museum Campus is a 57 acre lakefront park that connects The Adler Planetarium, the Field Museum and The Shedd Aquarium.

Adler Planetarium &
Astronomy Museum
Blast off into the cosmos & journey to the outer far reaches of the Universe in StarRider, the 1st interactive digital theater...Experience the spectacle of the starry night sky in the recently renovated Sky Pavilion. Journey through the Solar System and Milky Way Galaxy in the interactive galleries highlighted in the Astronomy Gallery.
For more information call:
312 922-STAR
Or visit their website:
www.adlerplanetarium.org

The Field Museum


Come snout-to-snout with Sue, the biggest T.rex skeleton ever found... Unlock the secrets of 23 Egyptian mummies... Stand toe-to-toe with the man eating Lions of Tsavo... The Field Museum has over 35 world-renowned permanent exhibits and features temporary exhibits throughout the year.
For more information call:
312 922-9410
Or visit their website:
www.fmnh.org

The Shedd Aquarium

Get face-to-face with aquatic animals from around the world. There are a large variety of fish, dolphins and penguins... Visit a 90,000 – gallon Caribbean Reef exhibit and see daily feeding dive presentations... Take a journey to one of the most diverse habitats on Earth, the Amazon flooded forest. You'll experience the changing seasons and meet astonishing creatures – from a two -toed sloth in the trees to an anaconda in the floodwaters to a Goliath bird-eating spider in hiding.
For more information call:
312 939-2438
Or visit their website:
www.sheddnet.org
---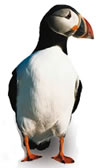 Lincoln Park Zoo
This month, our featured Chicago event is the Lincoln Park Zoo, known as the oldest zoo in the country, Lincoln Park is also one of the nations last free zoos. Known for having one of the largest collections of exotic and endangered animals in the country, Lincoln Park is home to more than 1100 mammals, reptiles and birds housed in replications of their natural habitats, residing on 35 acres of the city's beautiful lakefront. Highlights include the Kovler Lion House, the McCormick Bird House, and the new Great House. Open 365 days a year, the zoo attracts more than 3 million visitors. Formally managed by the Chicago Park District, the zoo was privatized in 1995 and now relies on contributions. Minutes from downtown Chicago, Lincoln Park is located at 2200 Cannon Drive, at Lake Shore Drive and Fullerton Parkway. The zoo may be reached by car or public transportation-contact the RTA/CTA at 312 386-7000. Parking is available at the zoo for $8.00.
Zoo Operating Hours are:
Open Daily
8 a.m. - 7p.m.
For more information contact the zoo directly by calling:
312 742-2000
Or visit their website:
www.lpzoo.com
---

NAVY PIER Chicago's famous Navy Pier is also known as Chicago's lakefront playground. Located on the shores of Lake Michigan, Navy Pier has been a Chicago Landmark since it opened in 1916. Originally designed as both a shipping and recreation facility. The Pier also served as a military training site during two world wars, as a venue for concerts and exhibitions, and as home to The University of Illinois-Chicago campus from 1946 through 1965. The park was recently renovated in July of 1995 as a world-class recreation and exposition center.
Navy Pier offers visitors a unique mix of family-oriented events and entertainment, encompassing more than 50 acres of parks, gardens, shops, restaurants and attractions.
Visitors enjoy performances at the 1,500-seat outdoor magnificent Skyline Stage, the city's premier lakefront performance venue; scenic rides on the giant 150-feet-high Ferris wheel and old-fashioned musical carousel in Navy Pier Park; tasty treats at the Pier's restaurants or in the Navy Pier Beer Garden; breathtaking dinner cruises, tour boats and visiting vessels; fabulous large-screen movies at Loews Cineplex Navy Pier 3D Imax Theatre; interactive exhibits at Chicago Children's Museum; and strolls along Dock Street, a pedestrian promenade which in the summer months features more than 40 vendors and entertainment daily. The Pier also features the Crystal Gardens, a six-story, glass-enclosed botanical garden; and a historic Grand Ballroom, with an 80-foot domed ceiling.
General Pier Summer Operating Hours are:
Sunday - Thursday 10 a.m. -10p.m.
Friday & Saturday 10 a.m.-12 a.m.
For more information contact Navy Pier directly by calling:
312 595-PIER
Or visit their website by clicking on the logo above.
---
Chicago City Scenes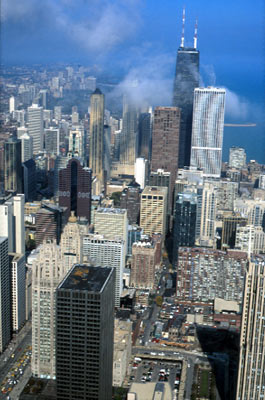 Do you not yet have Chicago on your mind?
Click on the City Scene Above to View Chicago City Photographs compliments of H. Sam McGrier Jr. of Chicago. Thank You Sam!